Solar Prayer Wheel


He had the idea before coming to Bhutan and brought solar panels and motor from home.

The prayer wheel was bought in Bhutan and modified to fit the motor.



Tashi made sure Eric, Pat and I had the necessary accutrements of incense, yak butter, and scarfs to properly make the solar wheel offering.

Then he takes us to a temple to give the solar prayer wheel a home.

The Temple is up a little hill.

We drive most of the way, then walk.

Before entering the Temple we stop to put an honorary scarf on the gift.

We got some stares from interested locals.

Of course, no cameras inside!

Also, surprisingly NO WOMEN!
The Temple Caretaker came out and took the solar prayer wheel from Eric and put it on the alter inside. Then he took the white scarfs Tashi helped us to get and put them inside on the Buddha of Compassion (with 11 heads and 1000arms). Then he came with a tray and we rolled dice. He had a very old book on numberology and from it read our fortunes. First you put money on the tray. Eric rolled a 9, which was said to be good. I rolled a 15 and the Monk turned to some pages and read in tongue we didn't understand but Tashi assured us it was the best you could roll. He told me the Monk said that the "desires I want will come to be." Geesh, f I only know what I wanted! Then Pat rolled. Also 15.
Then Eric and the Caretaker went into the alter and Pat and I were given little brass bowls of melted yak butter and lit wicks to meditate and pray. I raised the bowl with both hands over my head and bowed to the Buddha. Pat got down on her knees and put her forehead to the floor. Then the Monk took our candles and put them inside on the alter. He came back and touched our heads with a carved wooden thing in his hand painted black and gold. Before we left we were given a handful of Holy Water.
This Temple is a place for guidance. I think because it houses the Buddha of Compassion it is especially a place locals bring their newborns. Several locals were there with their babies for blessing and naming. They bring food; eggs, oil, etc as offerings. The Monk names the child.

We walk out of the Temple clockwise and spin the prayer wheels on all sides.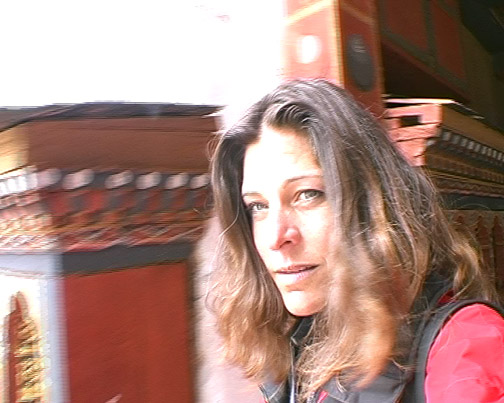 The exclusive nature of the Buddist Temple certainly will not be forgotten.